Astro Wars 2015 comes to a close...
On November 7th and 8th Model Car racers from across the country came together for Dublin Model Car Clubs Astro Wars event. The Star Wars theme somehow got attached, to it and before we new it people were saying stuff like "may the force be with you" and wearing Darth Vader masks.
The venue was looking great, with an interesting track layout that had two cross overs, and some rather slippy sections.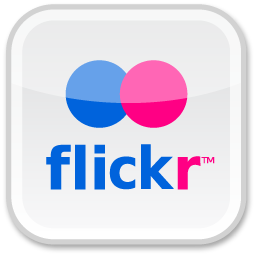 Click here to see the Astro Wars 2015 photos
Saturday was Qualifying with 5 rounds. It was close all day across all classes. Lots of drivers tied on points and were only seperated by their best times. Some were seperated by just one second after 6 rounds! It goes to show how tight the racing is.
There was plenty of messing in among the serious racing, with various drivers thinking they were Darth Vader, and maybe The Force would help them win.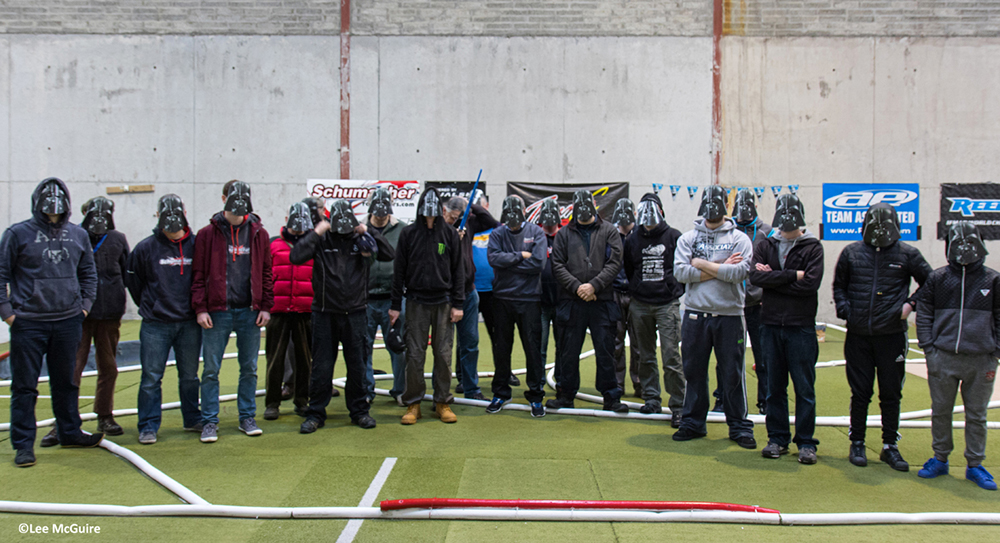 The DMCC Darth Vaders
Sunday was a last round of Qualifying and Finals. Again, it came donw to the wire in all classes. In 2wd Mod Dylan and Denzell McBurney went into the last final with the same points. Dylan was out in front, but Denzells broken hub helped him cement the win. Alan Thompson was driving brilliantly and got a well deserved 3rd place.
In 2wd Clubman, Graham Parkes got a hat trick of wins easily taking first overall. Maybe its time for him to go modified? After a bad start Declan Brennan went up a gear and gave Graham a run for his money to take 2nd overall with some lovely driving.
In 4 wheel Drive, Dylan took the win, again fighting hard to stay in front of Michael Bolger. Ian Thompson drove well all day and third overall.
The Mini Off road Class had another outing at Astro Wars, with Alan Thompson taking the win.
All the Winners at Astro Wars, above
Click here to see the Astro Wars 2015 photos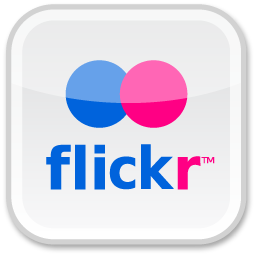 2 Wheel Drive Modified (above): 1st Dylan McBurney (center), 2nd Denzell McBurney (left), 3rd Alan Thompson (right)
2 Wheel Drive Clubman (above): 1st Graham Parkes (center), 2nd Declan Brennan (left), 3rd Dave Bolger (right)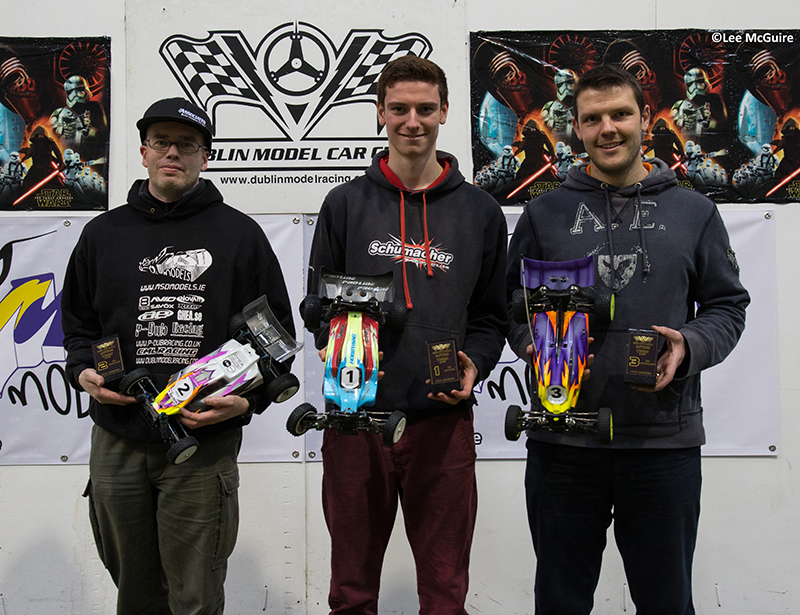 4 Wheel Drive Modified (above): 1st Dylan McBurney (center), 2nd Michael Bolger (left), 3rd Ian Thompson (right)
Mini Off Road (above):1st Alan Thompson (center), 2nd Michael O`Leary (left), 3rd Graham Parkes (right)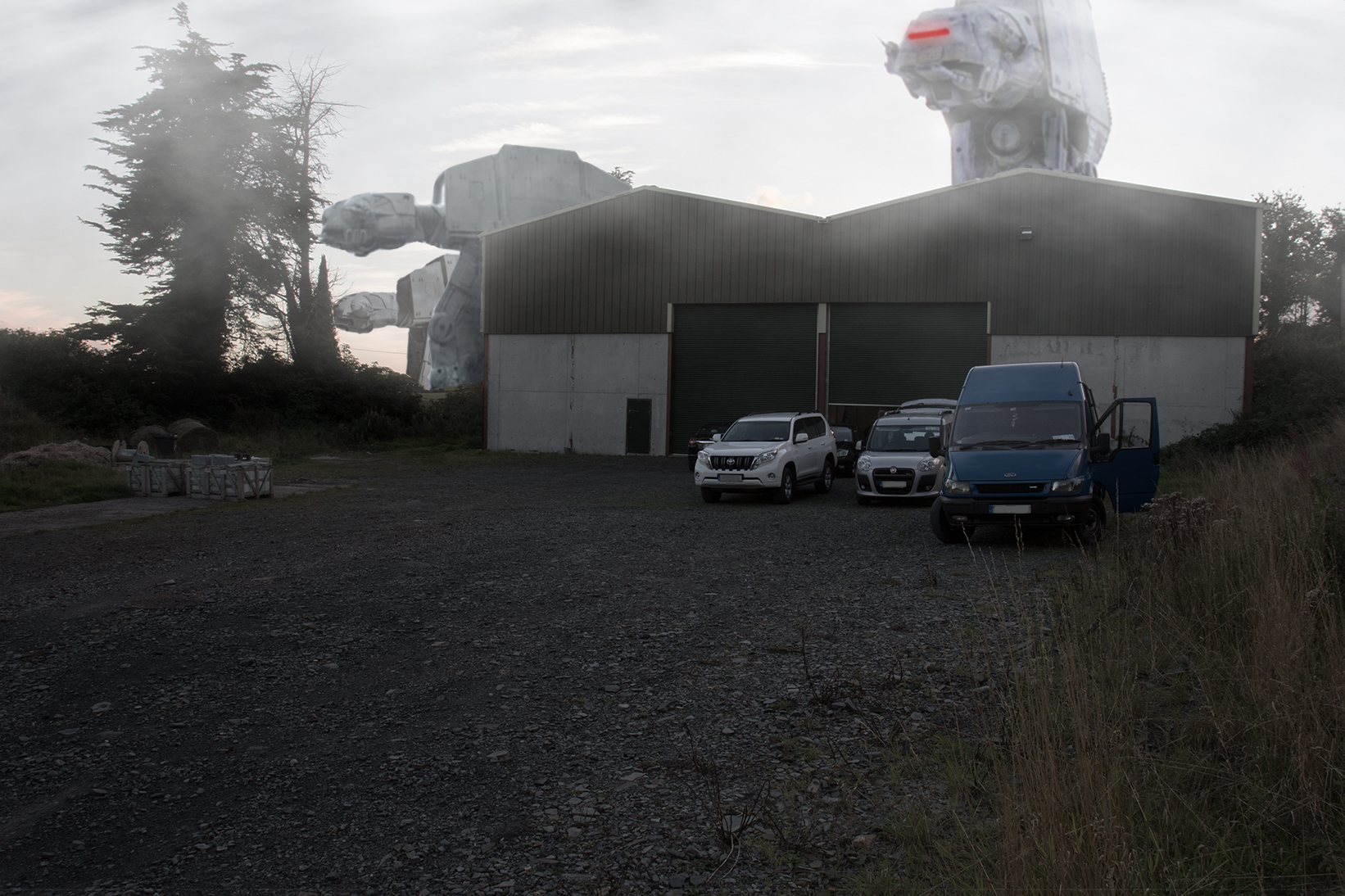 The AT-ATs passed by the club without incident
And Finally.....
We would like to thank everyone for making the effort in attending the event, and making eejits of themselves with Darth Vader masks and light sabers. It makes it worthwhile doing all the organising when we know people had fun!!!
We would also like to thank our sponsors MSD Models, P-Dub Racing and McBurney Racing
MSD Models provided a fantastic Hoody, that was signed by most of the drivers that attended the World Championships in Japan earlier this year. Dylan McBurney was the lucky driver out of the hat (he wins everything!!!)
Dylan with his MSD Hoody
Click here to see the Astro Wars 2015 photos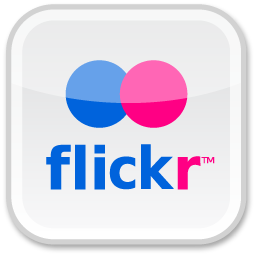 See you all next year!
And..um...
May The Force be With You!!