The DMCC Pink Tie Slot Car Challenge race report..
What a great day at the DMCC. All in the name of fun and a great cause.
Ivan Thompson spent most of his Christmas sorting out the track and building more to keep the racers occupied, plus many nights in advance preparing everthing. Well done Ivan
After all the drivers arrived, there was a draw to select the teams. For the Digital Race one Slot Car expert plus two lads who hadn't a clue what they were doing i.e. RC Car racers...and in fact a fair few of them last raced slot cars when they were 15 (we won`t mention how one sold his set to buy beer!!)
The Analog Race was more aimed at the experts
The Teams were:
Team
Member 1
Member 2
Member 3
Member 4
Digital 1
Ron Corry
Kevin White
Adam Keegan
Digital 2
Ed Fahey
Chris Lowe
Alan Thompson
Joe Keegan
Digital 3
Ivan Thompson
Dave Bolger
Emmet Farrell
Digital 4
George O`Rourke
Alex Healy-Brennan
Tony Brennan
Digital 5
John Hammond
Lee McGuire
Michael Bolger
Analog 1
Ivan Thompson
Ed Fahey
Analog 2
John Hammond
Tony Brennan
Analog 3
Alan Thompson
Adam Keegan
Analog 4
George O`Rourke
Harry Fearron
<![if supportMisalignedColumns]> <![endif]>
Practice got under way
Racing got underway just after 10am and it was a close fought battle between all teams. However, John, Lee and Mick (who choose the name "Team Invincible" in the last ten minutes of the race, though were thinking about changing it to "Team In-Your-Face" once they knew they had won). What the lads showed was steady driving with as few crashes as possible would win the day. They also showed they were extremely bad winners by dancing around pointing at the other teams and shouting "HAAAA" a lot. They said it was in jest, but we aren`t so sure.
The starting grid with Team Ed in Pole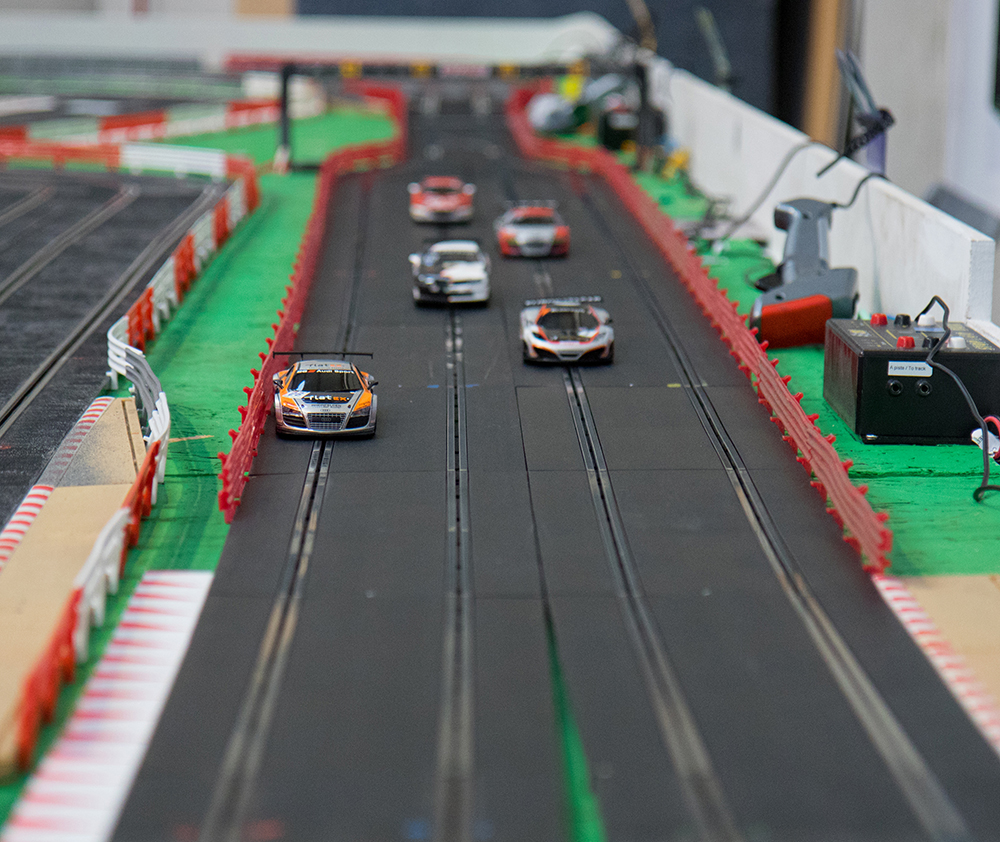 The second 3 hour race was on the analog track. Analog Scaelxtric is the more traditional type with one car per lane. The teams were smaller, with Ed and Ivan taking the win being well out in front of the other teams. The other teams did however complain that Ed and Ivan were too fast, however we know this isn't true as they were beaten by beginners in the digital race.
Team Invincibles winning Camaro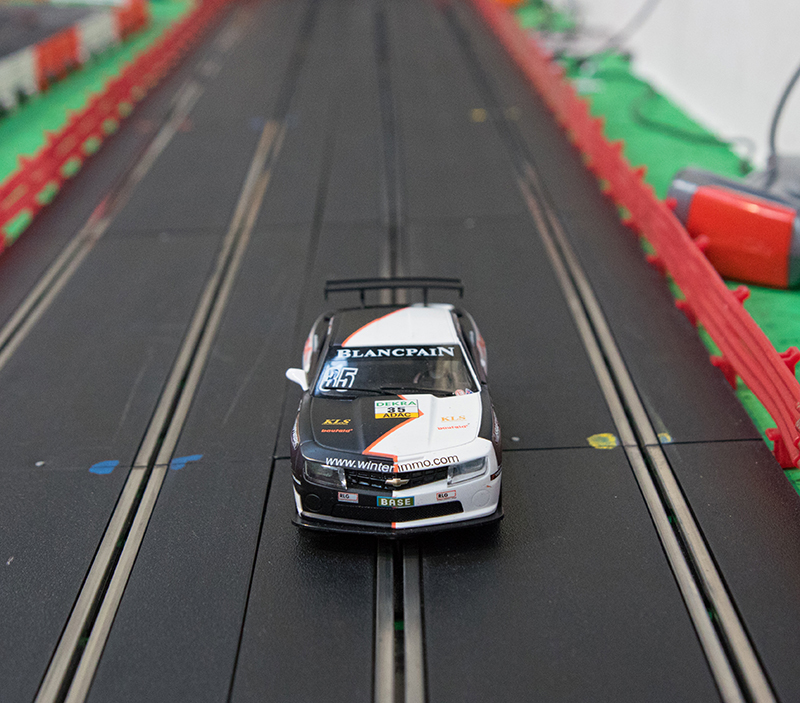 Most importantly (apart from serious fun) was just less than €300 was raised for the very deserving childrens cancer charity Aoibheann`s Pink Tie.
Well done to everyone who raced and thanks for putting your hands deep in pockets!
Normal Slot Car racing will resume on January 12th
See You there!!!