DMCC Summer Championship 2018 ends ....
The Dublin Model Car Clubs 2018 Summer Championship finished today, and we got to award the winners.
It was an exciting championship with a mix of different race formats that often challenged drivers. However it ended with a mix of new drivers taking away trophies, in with some familiar faces.
Right up till the last round most positions hadn`t been decided, so todays final round was pretty exciting.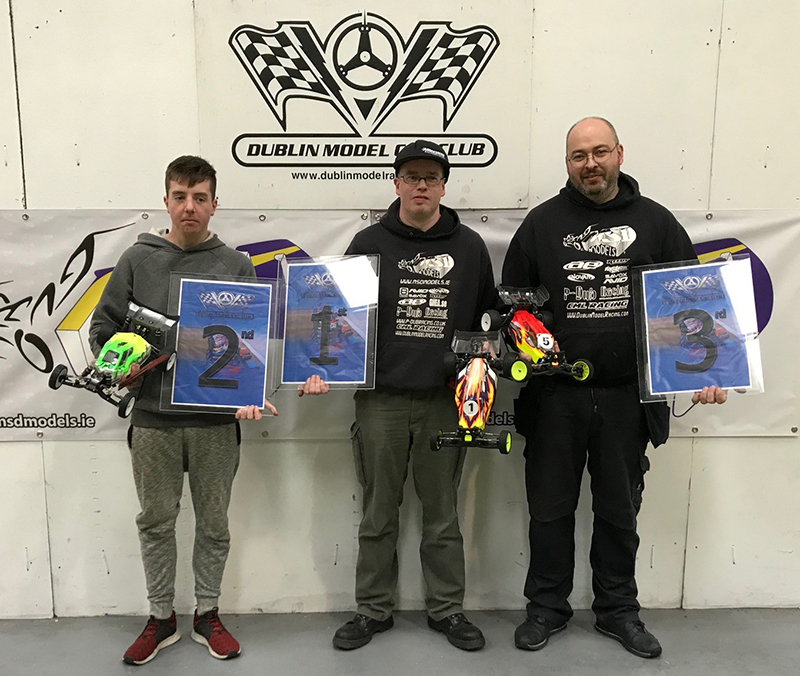 2WD Open Winners
1st Michael Bolger, 2nd Alan Thompson, 3rd Tony Kavanagh
In 2WD Clubman we were delighted to see some relatively new drivers take the podium
2WD Clubman Winners
1st Robert Regan, 2nd Miron Pysiewicz, 3rd Ray Marshal
4WD Open Winners
1st Michael Bolger, 2nd Jacek Zadrozny, 3d Denzell McBurney
4WD Clubman Winners
1st Ivan Thompson, 2nd Emmet Farrell, 3rd Marcin Debowski
There was also some awards for other drivers
Best F2: Joe Ottofaro who came 5th in his first year in Open
Best F4: Ken Gordon
Best F5:Sebastian Pysiewicz, who placed 6th in his very first year of driving!!
Best Junior: David Pysiewicz, who made 7th.
Most improved driver: Ciaran Parkes, whos laptime have been almost fast enough to see him promoted to open, maybe next year!!
Joe and Ken who were best drivers in their group.
We would like to thank all drivers for taking part and we are looking forward to the Winter Championship starting in a few weeks.