DMCC Summer Championship 2016 winners....
The Dublin Model Car Clubs 2016 Summer Championship came to a close in October, certs were awarded to the winners last weekend.
It turned out to be a very closely contested championship, with positions not decided up until the last round. Some drivers have really improved and made it to the Podium.
We have to single out a couple of drivers who deserve mention....
Ray Marshall, well done to Ray whos driving has become much more consistent so that he now made it onto the podium in 2WD Clubman
Tony Marshall, who after moving from Durango to AE has really moved up a gear and took 1st in 2WD Clubman
Alan Thompson, just outside the Podium this year in 4th, Alan has been getting some of the fastest times in the club. We are pretty sure this winter will see him boot one of the old timers off the podium (sorry old timers!!!)
Dyaln McBurney, it wouldnt be right not to mention Dylan after winning this years RCCAOI Nationals in both 2wd and 4wd and then taking both in the DMCC Championship. Dylan keeps suprising us all by going faster every week. Really looking like no one in Ireland can challenge him.
Finally a couple of newer drivers to the club really impressed us this summer, Stuart Porteous, Marcin Debowski and Stephen Massey have been improving every week. Stuart has taken his prehistoric Tamiya Manta ray to speeds it wasnt ment to do!!!
2WD Clubman winners,
1st Tony Marshall (center), 2nd Dave Bolger (left), 3rd Ray Marshall (right)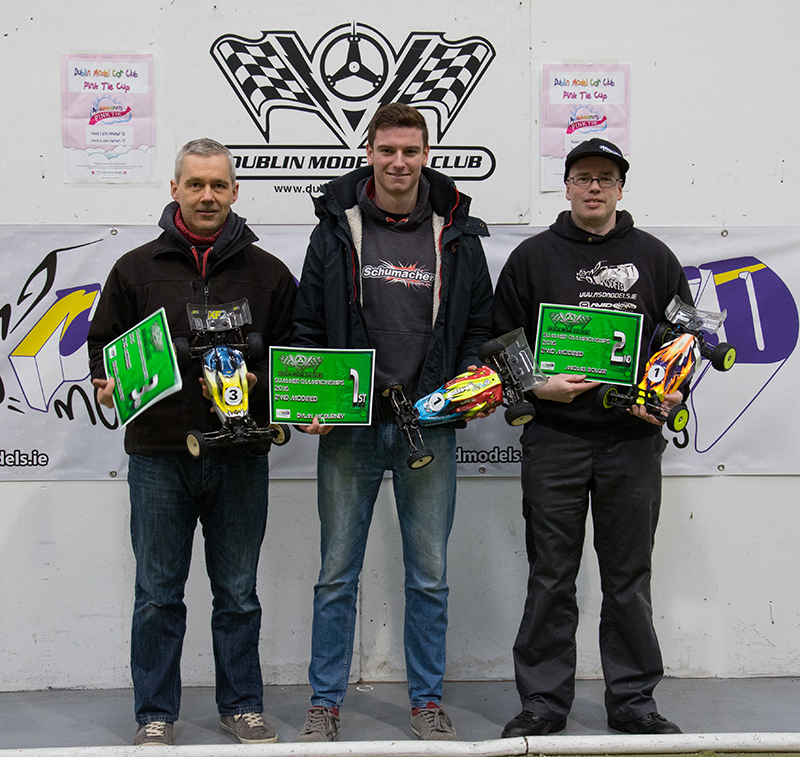 2WD Modified Winners
1st Dylan McBurney (center), 2nd Michael Bolger (Right), 3d Denzell McBurney(left)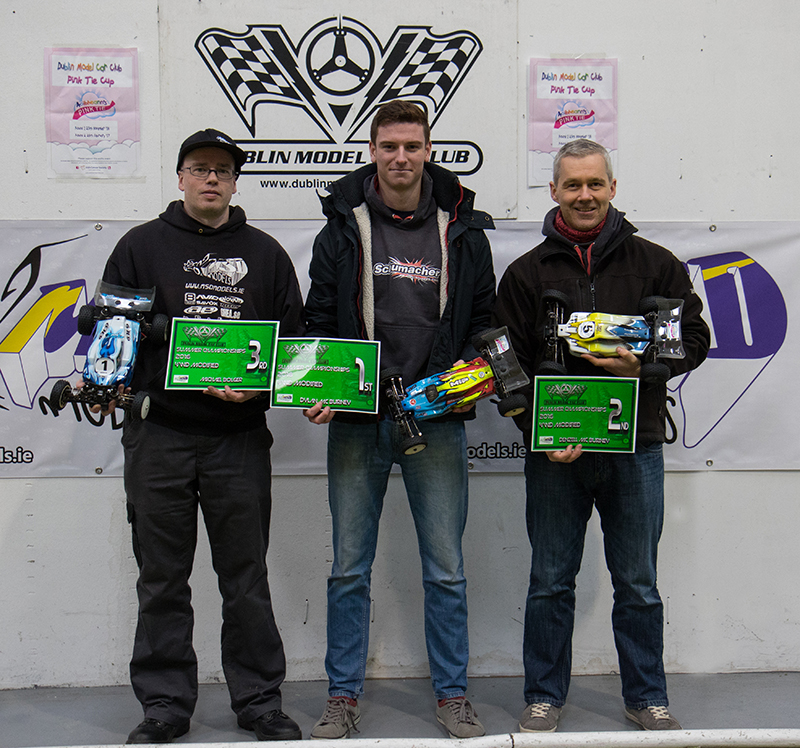 4WD Modified Winners
1st Dylan McBurney (center), 2nd Denzell McBurney (right), 3d Michael Bolger(left)
And will ye look at this... Team McBurney taking home all the paper :)
Team McBurney
We would like to thank all drivers for taking part as it was a really enjoyable championship for us all to race in and watch!!!
Thanks....