Fun was had at the WRI 2013...
After months of planning the Winter Race ireland 2013 is finally over. It turned out to be a good weekend enjoyed by all. Most importantly there was some very exciting racing.
WRI 2013 The Movie
Produced, directed and filmed by Kevin "Scorsese" White
The track ready for racing
The weekend started on Friday with open practice. It was a slow start to the day, but after lunch a steady stream of racers came to the track for some final tweaks to their cars and to get in a few laps to be prepared for the weekend.
Some of the cars
2 Wheel Drive
The track opened at 8am on Saturday for open practice, and all racers were there nice and early. The track closed at 9.30, for very good reason. This was when the breakfast rolls supplied by the Cottage Cafe at the Seamus Ennis Centre arrived. We have no photos of them as we were all too busy eating them to waste time with cameras
Racing got underway on time with 2wd Clubman kicking it off. There was also a new class running with a full heat of 1/18th buggies. A few of the guys came all the way from galway, and the heat was bolstered by a few members of the DMCC who joined in.
Racing stopped at 1 for lunch. Food was supplied by the Chipper in naul and left all drivers finding it difficult to climb the stairs at the rostrum.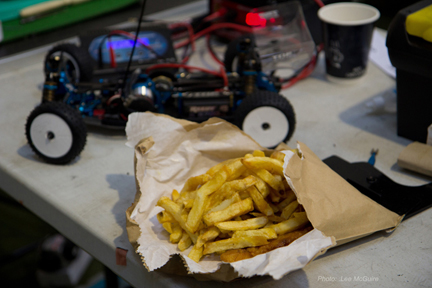 DMCC feed the drivers well
Finals kicked off at 2pm. There was close racing all afternoon, in all finals.
In 2WD modified Mark Penny took the first two legs. But he sat out the final leg to watch the race as it was between Aaron Vance, Denzell McBurney and Alan Thompson for second and third. In the end it finished with a tie after some extremely close and fast racing. On count back Denzell took second and Aaron took third. But it was one very exciting race to watch and went right to the wire!
In 2WD clubman Dylan McBurney was on fire and took all three legs. Watch for this fella in the future! Again in the last final second and third were up for grabs and ended with Adam Keegan in second and Kevin White in third.
The day ended up in Wrights pub in Swords, with Mark Penny fending people off his Ferrero Rocher cake. Its a well known fact that Ferrero Rocher are Marks favourite. Oh there was also a few pints had... (if you werent there, you missed out!)
WRI 2013 The Movie, Part 2
4 Wheel Drive
Sunday started off with a few hung over drivers tucking into the famous breakfast rolls (Two eggs, two sausages, two rashers, two bacon, two pudding, one black, one white. All stacked like a tower on top of each other and rolled up good n' tight).
There were a couple of issues with the track which stopped racing for a short while, but the racing was underway in no time. Again there was close racing in both clubman and modified. Mark Penny and Aaron Vance were both on top form for the whole day. Taking first and second respectively. The biggest fight was for third position. With Michael Bolger missing the first leg and Lee McGuire taking third and Gary Baird in fourth. In the second leg Michael took third, but in the third he had mechanical trouble, with Gary Baird in third for most of the race. However on the last lap he broke a shock tower on a hard landing and limped home in fourth.
However the biggest excitement was in Clubman. Alan Thompson took the first two legs. In the final leg Second and Third were still up for grabs between Graham Parkes, Lucy Thompson, Tony Marshall and Eoin keating. But with Lucy, doing some of the best driving she has ever done, took first in the leg. It was specially good how she passed Alan in the final few laps and kept ahead even though he did his best to get by. There was also some lovely clean driving from Eoin Keating who hasn`t been racing for a good while.
There was also serious messin goin on in the open class, mostly inspired by Kevin White with Adam Keegan demonstrating that hes not far behind Kevin. Both of them making their own Modified class adding aerodynamic upgrades to their cars. Oh and also driving in formation.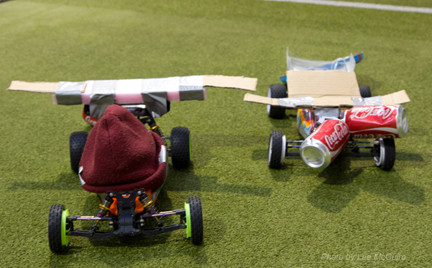 "Modified" Cars
Finally!!
The DMCC would like to thank the following business
The cottage Cafe in the Seamus Ennis Centre, Naul, Co Dublin and also The Chipper in the Naul. Who both provided us with lots of really gooodfood and FAST!
MSD models who provided a prizes and fantastic tee shirt for the raffle. Signed by the top drivers from the 2013 Worlds in California.
And finally Schumacher for the fantastic prizes they provided. Thanks a lot guys!
The Winners!!!!!!!!
2WD Clubman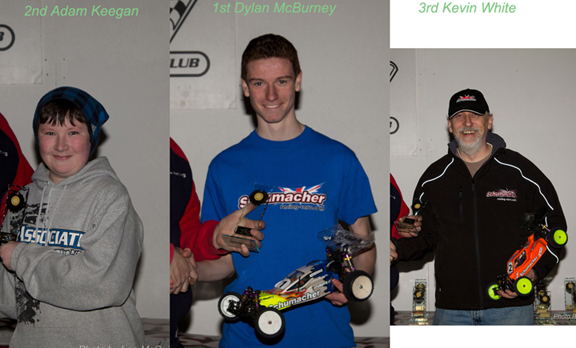 2WD Modified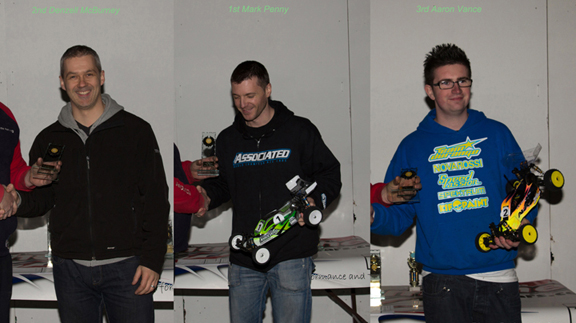 4WD Clubman
4WD Modified
Lee McGuire in 3rd, but he was holding the camera